Squawker
is one of the characters available in 
Mindjack
.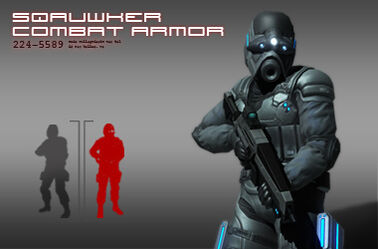 General Information
Edit
Type: Regular Infantry Soldier
Call Sign: Squawker
Affiliation: Nerkas
Mind Hack: Red Team
Mind Slave: Yes
Description
Edit
SQUAWKER COMBAT ARMOR 
The Squawker Combat Armor system is an efficient solution in personnel protection technology that allows you to save lives… and money! Equip your infantry soldiers with combat protection that's as easy to use as it is easy on the procurement budget. Squawker Combat Armor requires no special training beyond standard military protocols. And it's been proven to reduce combat fatalities by almost 30%! Squawker Combat Armor is available in camouflage, dune and grey—for jungle, desert or urban operations and is comes in small, large and extra-large sizes. Each armor set features:
Torso, Leg and Arm Reinforcements
Adjustable Thigh and Shoulder Pouches
Integrated Communications System
Limited Life-Support & Respiratory Protection
External Speaker System
30-Day | 30-Kill Limited Warranty
Ad blocker interference detected!
Wikia is a free-to-use site that makes money from advertising. We have a modified experience for viewers using ad blockers

Wikia is not accessible if you've made further modifications. Remove the custom ad blocker rule(s) and the page will load as expected.