Quick Draw
 is one of the available characters in 
Mindjack
.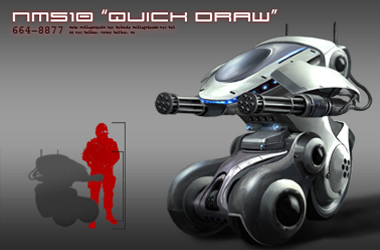 General Information
Edit
Type: NM510 Ground Attack Mech
Call Sign: Quick Draw
Affiliation: Nerkas
Mind Hack: Red Team
Mind Slave: Yes
Description
Edit
NM510 "QUICK DRAW"" GROUND ATTACK MECH
Essentially a cannon on wheels, the Quick Draw is capable of rotating 360 degrees to fire on its enemies.
With burst speeds of up to 100 mph, the Quick Draw really is the king of the road. Its reinforced, armored hull and heavy duty turret means the Quick Draw can both give and take a beating.
Use the Quick Draw to support field armies as an artillery platform. Use it as a security droid. Whatever needs to be done, the Quick Draw is the one battle droid that always ready for some action.
The Quick Draw Attack Mech features:
Quad-Wheel Design For Enhanced Maneuverability
200 mm Cannons with 100 km Range
Dual Rapid Fire Machine Guns
Hard Wired Mind Wave Control System
Infrared Motion Detection System
30-Kill | 30-Day Limited Warranty
Ad blocker interference detected!
Wikia is a free-to-use site that makes money from advertising. We have a modified experience for viewers using ad blockers

Wikia is not accessible if you've made further modifications. Remove the custom ad blocker rule(s) and the page will load as expected.