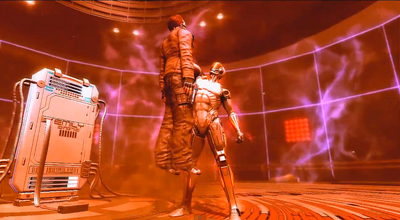 The Gardner Prototype is the final boss of mindjack and the attempted reicarnation of Andrew Gardner's daughter,Emily
Description 
Andrew Gardner spent his life trying to bring back his daguter emily after she died at age 8. At some point this lead him to create mind hacking with emily's conscience installed inside the mind control device. When Jim ,Rebecca and Fernadez enter Gardner's office at NERKAS Tower, the secturity activates Gardners last will wich is instead of letting the power of mind hacking fall into the wrong hands, the mind control device be destroyed killing all wanderer's and disabling mind hacking. However during this process emily's conscience is transfered into a humaniod mech powered by wanderer's and attack's the group. The only way to stop it from reving is to destroy the wanderer generator's around the room. 
Ad blocker interference detected!
Wikia is a free-to-use site that makes money from advertising. We have a modified experience for viewers using ad blockers

Wikia is not accessible if you've made further modifications. Remove the custom ad blocker rule(s) and the page will load as expected.